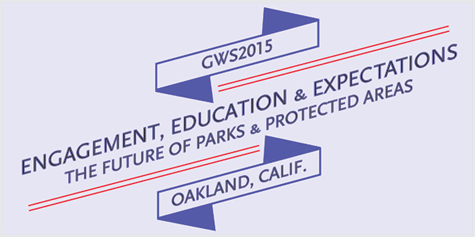 ---
Conference Program Guide and List of Posters & Exhibits
A PDF version of the GWS Program Guide is available for viewing/downloading through the link below. A printed version of the Program Guide will be part of the conference egistration packet. The PDF will also be on a stick drive included in the registration packet, and you can also access it through the free GWS2015 mobile conference app.
The Program Guide contains an overview of the conference format and a day-by-day schedule of all conference activities, including the Plenary Sessions, Focus Sessions, and Concurrent Sessions; Field Trips and Service Projects; and Special Events. PLEASE NOTE: Late changes to the program will be covered in a Late Changes handout that will be part of the registration packet.
The list of Posters and Exhibits linked below is current as of March 17, 2015. Changes to the lineup after that will be covered in the Late Changes handout.
List of Posters & Exhibits (as of March 17, 2015)
Get the free GWS2015 mobile conference app
GWS2015 has gone mobile! Using the popular Guidebook mobile app platform, we've developed a GWS2015 mobile conference app to help you navigate the conference in Oakland.
We strongly encourage you to download our mobile guide to enhance your experience at GWS2015. You'll have the entire conference schedule in the palm of your hand and can personalize it to plan your day with the events that most interest you. You can browse maps, restaurant guides, and other conference info, create to-do lists, interact with social media, and more. And it's all free!
To get the app, go to
https://guidebook.com/g/6c8tszf4/?ref=badge&gid=29885
The GWS2015 app is compatible with iPhones, iPads, iPod Touches and Android devices. Windows Phone 7 and Blackberry users can access the same information via Guidebook's mobile site at http://guidebook.com/browse/. Our thanks go to Hitachi Consulting, a GWS2015 supporter, for underwriting the cost of the app.