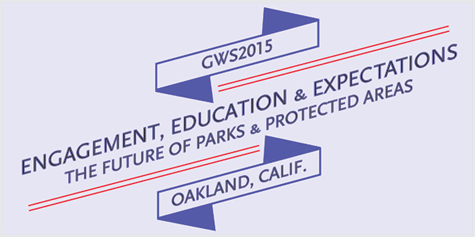 What we are doing.
The George Wright Society recognizes that holding an international face-to-face meeting, where most attendees will travel by air, brings with it many environmental impacts. The energy expended to bring hundreds of people from around the USA (and beyond) to a single location is significant, and of course with that energy expenditure comes emissions of CO2 and other greenhouse gases, as well as pollutants of other kinds. And the environmental impacts of running a conference hotel or convention center are also very significant.
Should environmental organizations even be holding large in-person conferences any longer? It's a valid question. [Posted Dec 8, 2014 — here's an an interesting article reporting on a proposal by the president of a large scholarly conference to take a sabbatical from it for a year, to forego the carbon impact.] Our position continues to be that face-to-face meetings enable unique and irreplaceable personal dynamics that cannot be provided by video teleconferences, webinars, etc.
This could change, however. In a really interesting article on breaking the flying addiction, journalist Elisabeth Rosenthal suggests that the next generation of leaders, which is now emerging from college and grad school, is more and more comfortable with video teleconferencing, and the technology is improving to the point that genuine interactions seem possible.
That's still in the future; for now, what seems to make sense for our organization is to plan our conferences around several principles:
Make the event large enough to provide genuine opportunities to network with new people, but not so large as to become an overwhelming convention whose footprint is huge. We think that our attendance is pretty close to the "via media."

Hold the event at intervals longer than a year. For an organization the size of ours, holding a major conference every two years instead of annually makes sense, both administratively and environmentally.

Try to minimize advance and on-site impacts.
Regarding the last point, GWS is working on several fronts:
Paperless communications. We have designed our conference management system to be as paperless as possible. Our registration process is 100% web-based, and virtually all of our routine correspondence with registrants is via e-mail. We print only one hard copy of all abstracts received, and this is shared by the Conference Committee in their selection meetings. We have gone to an e-book format for the conference proceedings, eliminating the production of several hundred paperback books. For GWS2015 we are looking at creating a conference app to help people navigate the meeting.
Use of recycled materials. Whenever we do produce paper materials, they are printed on stock made from at least 50% recycled fibers. (The portion of this 50% figure that is made from post-consumer fiber varies.) Similarly, wherever possible we choose packing and shipping materials, and conference giveaways (such as folders), that are made from recycled materials.
Minimizing food/beverage disposables. In our Request for Proposals (RFPs) to hotels, we specify that refreshment breaks be served on china wherever possible.
Water/energy conservation (towel and linen re-use). Most hotels now have a program in which guests can specify that their towels and bed linens not be changed; we insist upon it in our RFPs. All new hotels have low-flush toilets installed; most also have water-saving showerheads and other fixtures, and energy-efficient lighting.
On-site recycling. The GWS has always made an extra effort to recycle as much as possible at our conferences, and to encourage the hotel staff in all departments — from sales to housekeeping — to do the same. In our experience, all conference hotels claim that they recycle extensively. However, from our personal observations (you can learn a lot by hanging around the "back of the house" service areas and loading docks), the reality is that a lot of potentially recyclable material ends up being discarded.
We try to impress upon hotel staff that recycling and other green practices are a serious matter to us, but when all is said and done we in the GWS can only control a small portion of the recyclables stream at the conference. At our registration area we provide a bin for recycling office paper (we take the contents home with us and recycle it there, or else personally see that it goes into the recycling stream at the hotel), and also urge registrants to recycle name tags and holders with us; we then re-use the lanyards and holders.
The Oakland Marriott features PURE allergy-friendly rooms and has green certifications from Alameda County and the California Green Lodging Program.
What you can do.
Once you've decided to attend GWS2015, here are some things you can do to reduce your carbon footprint on your trip.
If you can combine the trip with other necessary travel, do so.

Take Amtrak if you can — the greenhouse gas emissions are much less per passenger than for air travel. See our Travel Info page.

Don't rent a car. You don't need a car to get around Oakland while at GWS2015 — use BART and other public transport system instead. See our Travel Info page.

Take advantage of the hotel's in-house recycling program.
Take only the handouts you really need. If you are thinking of bringing handouts of your own, consider bringing a single display copy instead, and then provide people with business card-sized notes that give a web address where they can go and download a digital copy. If you bring hard-copy handouts, make sure you take any leftovers home with you.
If you are presenting a poster, take it (and any accompanying materials) home with you, or at least make sure you recycle them at the hotel, rather than just abandoning them. When the posterboard rental company comes to tear down the Poster Session, their workers often have to throw away considerable quantities of posters, handouts, business cards, etc., because people don't want to take them back home.
Re-use your towels and other linens during your hotel stay ... or at least have them changed less frequently.
Bring a travel mug and a lightweight set of camping utensils (or even better, a Spork) so you don't need to use disposable paper or Styrofoam cups and plastic tableware when you go out for a coffee or snack.
Double up with a roomie. Sharing a room is not only cheaper for you, it is less energy-intensive for the hotel's housekeeping department to manage.
And of course, turn off the lights in your room when you aren't there!