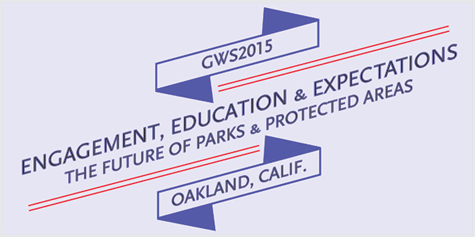 (posted Mar 16, 2015) — Plenary sessions to be live-streamed
Can't make it to Oakland? Then join us for a live stream of the first two plenary sessions. There is no charge, you don't need to sign up in advance, and the webcasts are open to all. The stream will be hosted on YouTube LIve:
https://www.youtube.com/watch?v=j5DLDaJAGvY
Just tune in a few minutes prior to the start time. The feed will not become active until the start time. PLEASE NOTE: DOI employees may need to log out of Bison Connect in order to see the live stream, or view the stream in a separate browser.
PLENARY SESSION I: Monday, March 30, 8:00-9:30 am Pacific Time
"Parks as a Key to Preventive Healthcare: Partnerships between Park and Health Professionals"
Moderator: Kristin Wheeler (Institute at the Golden Gate)
Panelists: Mariajose Alcantara (National Park Service), Raymond Baxter (Kaiser Permanente), Fatima Colindres (National Park Service)
Discussant: Jon Jarvis (National Park Service)
PLENARY SESSION II: Tuesday, March 31, 8:00-9:30 am Pacific Time
"Watching the World Go Away: Sliding Baselines, Diminished Expectations, and the Future of Protected Areas"
Moderator: Jerry Mitchell
Speaker: Kathleen Dean Moore (Distinguished Professor of Philosophy Emerita, Oregon State University)
More details on the sessions via the "Plenary sessions" link in the menu to your right.
The webcasts will be available through the above link for 30 days, and after that will be archived on the GWS YouTube channel. Our sincere thanks go to WASO for underwriting the costs.
---
(posted Feb 26, 2015) — Get the free GWS2015 mobile conference app
GWS2015 has gone mobile! Using the popular Guidebook mobile app platform, we've developed a GWS2015 mobile conference app to help you navigate the conference in Oakland.
We strongly encourage you to download our mobile guide to enhance your experience at GWS2015. You'll have the entire conference schedule in the palm of your hand and can personalize it to plan your day with the events that most interest you. You can browse maps, restaurant guides, and other conference info, create to-do lists, interact with social media, and more. And it's all free!
To get the app, go to
https://guidebook.com/g/6c8tszf4/?ref=badge&gid=29885
The GWS2015 app is compatible with iPhones, iPads, iPod Touches and Android devices. Windows Phone 7 and Blackberry users can access the same information via Guidebook's mobile site at http://guidebook.com/browse/.   Our thanks go to Hitachi Consulting, a GWS2015 supporter, for underwriting the cost of the app.
---
(posted Feb 26, 2015) — Follow us on our new Twitter account
The George Wright Society is launching a new twitter account! @georgewright80 will serve as the "official" GWS twitter account and will provide updates on biennial conferences and other Society-related news, such as Park Break, GWS Awards, and GWS Board announcements. We hope this new account will reach a broader audience than our current media campaigns. We also hope this new account will build awareness of and legitimacy around our official 2015 Biennial Conference hashtag, #GeorgeWright2015.
The @georgewright80 twitter handle reflects not only the name of our society but also the year in which it was founded. Please note that we will continue to post Parkwire, our daily digest of global park news, to Twitter and Facebook on the pre-existing @parkwire handle (also available through our homepage at http://www.georgewright.org).
Make sure to follow us @georgewright80 <https://twitter.com/georgewright80> and post about the upcoming conference using #GeorgeWright2015. You can use this on any social media site such as Facebook, Instagram, and of course, Twitter! We look forward to your following and posts!
---
An important note regarding the conference program
(UPDATED MARCH 19, 2015) — We have just learned that the DOI has approved the NPS attendance request in its entirety. This means the conference program we have been working with all along is now final, except for the usual last-minute changes that occur in the run-up to a conference of this size. Those changes will be noted on a "Late Changes" handout as part of your registration packet.

As many of you know, the US Department of the Interior (DOI) has a conference approval process in place that applies to DOI employees who want to attend a particular conference. It requires DOI agencies wishing to send significant numbers of employees to a meeting to prepare a proposal to DOI that includes budget figures and a list of the employees who have been agency-approved to attend. DOI then reviews the proposal and makes a decision on whether to approve or deny it, or change it in some way.
The National Park Service (NPS), an agency within the DOI, has prepared a package seeking approval for its employees to attend GWS2015. It was submitted to DOI in mid-February. If approved as submitted, this package would enable significant numbers of NPS personnel to attend.
The NPS and other DOI agency personnel who are listed as presenters in the current configuration of the GWS2015 Concurrent Sessions and Poster Session schedules have all received their agency's permission to attend and present at the conference. However, as stated above the final decision rests with the DOI.
This means it is still possible that the conference program could be revamped considerably before it's finalized. We want everyone to be aware of this. We are cautiously optimistic that the program now on the website will be close to the final program, but we won't know for sure until DOI issues its decision. As soon as we know that decision, we will post it here.
No matter what happens, we expect to have a robust and valuable conference experience to offer in Oakland. If you have any questions about this, please contact GWS Executive Director Dave Harmon at dharmon@georgewright.org, or call the GWS office at 1-906-487-9722.
---
(posted Feb 20, 2015) — Abstracts now available for viewing/download
The abstracts for all presentations are now available for viewing/download through the link at right. The abstracts are published as a single searchable PDF. Attendees will receive a copy of this file on a stick drive as part of the registration packet.

---
(posted Feb 15, 2015) — Coming soon: the GWS2015 mobile conference app

For the first time you'll be able to navigate your GWS Conference experience right from your handheld device with our free GWS2015 mobile app. Packed with features such as the ability to create your own custom schedule of events (with reminders), an interactive Google map of the vicinity of the Oakland Marriott, and easy-to-use interfaces with Twitter and Facebook, the GWS2015 app will make it easier than ever to get the most out of the conference. The app will be available for download soon, so watch this space.
Thanks go to Hitachi Consulting for underwriting the cost of the app.