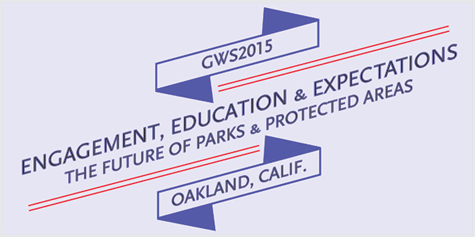 ---
(posted January 23, 2015) — Please read this important note regarding the conference program
---
(posted February 10, 2015) — Our sleeping room block at the Marriott is now full ... but read on

As of this date the discounted sleeping room block we reserved at the Marriott is full. The Marriott may have rooms available at their regular rate.
However, this is a moving target ... there are always people changing plans so it's possible, depending on when you call, that a room may have opened at the discounted GWS 2015 conference rate and you can book your stay entirely at the Marriott. We suggest you try the Marriott first and see if you get lucky. Instructions are below.
If that doesn't work, do a web search for hotels that are near a BART station in Oakland or are close to Broadway in Oakland, which has a free shuttle bus service that can get you to the Marriott. Good places to look for reasonably priced hotels:
Be sure to check the hotel's online reviews before booking to make sure you are getting the type of property you desire.
---
Hotel room block & rates

A block of sleeping rooms is being held at the Oakland Marriott City Center. The rooms are priced at the 2015 federal per diem rate for Oakland, which is $124 per night (same price for single/double occupancy). This price does NOT include taxes and fees (currently 14%; these bring the cost of a room to approximately $141.36 per night). The tax rates are subject to change.
Sunday, March 8, 2015, is the last day the hotel is guaranteeing that rate to GWS attendees; after that, they may still offer the rate at their discretion, but it's not assured.
The current (2014) federal per diem rates for Oakland are: $124 lodging, $61 M&IE (meals & incidental expenses; $45.75 first and last day of travel).
If you wish to arrive early or stay later, the room rates will be extended to you, subject to room availability, for a period of 3 days before and after the conference.
Room tax exemption for US federal government employees. Federal and state government employees who are attending in their official capacity and who pay using a government credit card will be able to exempt themselves from the tax on the hotel room. Just download and fill out this form and present it at check-in.
Making a reservation
The best way to reserve your room is online through Marriott's GWS2015 reservations webpage. The site will walk you through the reservation process. Note that if you cancel your reservation with 24 hours or less notice, you'll forfeit one night's room charge and tax.
If you prefer to reserve by phone, call the Marriott systemwide toll-free reservations line at 1-877-901-6632. Be sure to identify yourself as a participant in the 2015 George Wright Society Conference. Have your arrival and departure dates and times ready, as well as a major credit card to guarantee your first night's reservation. Also be sure to state any special preferences.
Thinking about sharing your room to cut costs? Be sure to reserve a room with 2 beds; our room block contains a mix of rooms, some of which have only 1 bed.
Bringing your kids? Children under 17 years of age stay free in the same room as their parents.
Cut-off date for guest rooms. The room block is being held through March 8, 2015, or until all the rooms in the block are taken. After that, any additional roomswill be sold on a space-available basis and the GWS conference rate is not guaranteed.
Oakland Marriott City Center
1001 Broadway
Oakland, CA 94607
1-510-451-4000
Free in-room, high-speed Internet for people reserving under the GWS room block
We have also negotiated free Internet access in sleeping rooms for guests who have registered under the GWS room block. The charge for this is normally $12 per day. There is free high-speed wireless in the hotel lobby. There is no Internet access in the meeting rooms.
Parking at the hotel
There is valet parking ($33/day) at the hotel. Self-parking ($25/day) is available next door at the Convention Center.