The George Wright Forum: Members' Access to Current Issue
The Current Issue (December 2017)
Thank you for being a GWS Member/Library Subscriber! Below you will find PDF links to the entire current issue as well as to each individual article.
---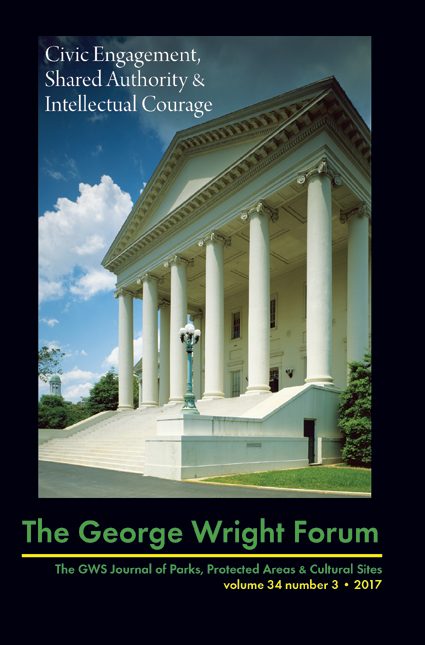 Download entire issue (filesize = 15mb)
Announcing the Richard West Sellars Fund for the Forum / Jennifer Palmer
Letter from Woodstock: Values We Hold Dear / Rolf Diamant
Civic Engagement, Shared Authority, and Intellectual Courage / Rebecca Conard and John H. Sprinkle, Jr., guest editors
Planned Obsolescence:
Maintenance of the National Park Service's History Infrastructure
John H. Sprinkle, Jr.
Shining Light on Civil War Battlefield Preservation and Interpretation:
From the "Dark Ages" to the Present at Stones River National Battlefield
Angela Sirna
Farming in the Sweet Spot:
Integrating Interpretation, Preservation, and Food Production at National Parks
Cathy Stanton
The Changing Cape: Using History to Engage Coastal Residents in
Community Conversations about Climate Change
David Glassberg
Interpreting the Contributions of Chinese Immigrants in
Yosemite National Park's History
Yenyen F. Chan
Nānā I Ke Kumu (Look to the Source)
M. Melia Lane-Kamahele
A Perilous View
Shelton Johnson
Some Challenges of Preserving and Exhibiting the African American Experience:
Reflections on Working with the National Park Service and the Carter G. Woodson
Home National Historic Site
Pero Gaglo Dagbovie
Exploring American Places with the Discovery Journal:
A Guide to Co-Creating Meaningful Interpretation
Katie Crawford-Lackey and Barbara Little
Indigenous Cultural Landscapes:
A 21st-Century Landscape-scale Conservation and Stewardship Framework
Deanna Beacham, Suzanne Copping, John Reynolds, and Carolyn Black
A Framework for Understanding Off-trail Trampling Impacts in Mountain Environments
Ross Martin and David R. Butler
Seeking Park-based Science Information: Interpreters at the Gate
Martha Merson, Cynthia Char, Nickolay Hristov, and Louise Alle
Status and Extent of Aquatic Protected Areas in the Great Lakes
Scott R. Parker, Nicholas E. Mandrak, Jeff D. Truscott, Patrick L. Lawrence, Dan Kraus,
Graham Bryan, and Mike Molnar
The National Park Service LGBTQ Heritage Initiative: One Year Out
Megan E. Springate