Volume 18, #4 (2001)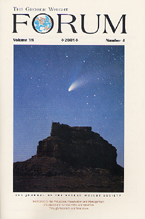 Box Sixty-Five:
Using Numbers that Count: Information or Revelation?
Mark R. Peterson
A Dialogue on the Natural Resource Challenge
Dale B. Engquist
PROTECTING DARK SKIES
Guest Editor: Joe Sovick
Toward an Appreciation of the Dark Night Sky
Joe Sovick
The Value of Dark Skies and of High-Quality Night Lighting—Building Public Awareness
Elizabeth M. Alvarez del Castillo and David L. Crawford
The Ultimate Cultural Resource?
Jerry Rogers and Joe Sovick
Preserving Pristine Night Skies in National Parks and the Wilderness Ethic
Dan Duriscoe
Let There Be Dark: The National Park Service and the New Mexico Night Sky Protection Act
Jerry Rogers and Joe Sovick
Visual Estimations of Night Sky Brightness
Chadwick A. Moore
Modeling Light Pollution from Population Data and Implications for National Park Service Lands
Steve Albers and Dan Duriscoe
Stargazing—A Driving Force in Ecotourism at Cherry Springs State Park
Thom Bemus
Chaco's Night Lights
Brad Shattuck and G. B. Cornucopia
Light Pollution and Marine Turtle Hatchlings: The Straw that Breaks the Camel's Back?
Mark Nicholas
Yellowstone by Night
Lynn Chan and Eleanor Clark
---
Click (or right-click) on the links to download a PDF version of the article.