2011 GWS Conference Proceedings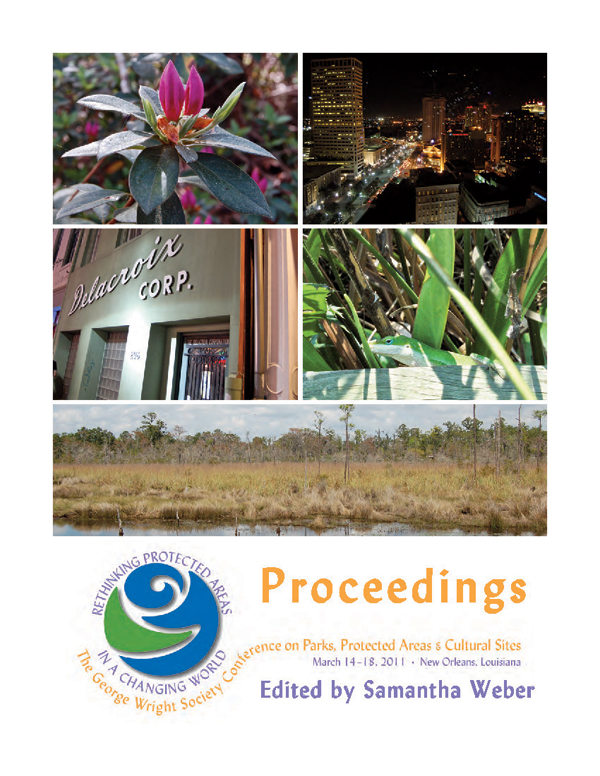 Rethinking Protected Areas in a Changing World is the proceedings volume from the 2011 GWS Biennial Conference on Parks, Protected Areas, and Cultural Sites. The book (423 pp.) is published in digital (PDF) format only. You can download the whole book or individual papers. Links below.
Cover photos courtesy of Samantha Weber.
CITATION:
Weber, Samantha, ed. 2012. Rethinking Protected Areas in a Changing World: Proceedings of the 2011 GWS Biennial Conference on Parks, Protected Areas, and Cultural Sites. Hancock, Michigan: The George Wright Society.
DOWNLOAD ENTIRE BOOK (filesize = approx. 20MB) | download Spanish translations of abstracts — descarga traducciones al español de los resúmenes
Introduction and Acknowledgments
David Harmon
Making a Difference Against Invasive Plants on the Appalachian Trail
James Åkerson
Rapid Response to Insect, Disease and Abiotic Impacts:
Practical Guidance for Field Practitioners
James Åkerson and Wayne Millington
Veve of Afa:
A Case Study for Development Options and Progress, Palma Soriano, Cuba
Maria Ayub
An Interdisciplinary Discussion about Fire/Fuels Science and Management
Leslie Bahn, Vita Wright, Eugénie Montblanc, and Andrea Thode
Year-Round Hydrologic Monitoring of Subalpine Lakes in
Great Basin National Park
Gretchen M. Baker, Geoff Moret, Christopher C. Caudill, and Nita Tallent-Halsell
Parknership: A 21st Century Model at Keweenaw National Historical Park
Tom Baker
The Indigenous Cultural Landscape of the Eastern Woodlands:
A Model for Conservation, Interpretation, and Tourism
Deanna Beacham
An Inventory of Paleontological Resources from
Glacier Bay National Park and Preserve, Alaska
Robert B. Blodgett, Vincent L. Santucci, and Lewis Sharman
Engaging Underrepresented Minorities in the Sciences
Gillian Bowser, Sara McLaughlin, and Mark Brown
Wilderness and Climate Change:
Mitigating Conflict by Confronting the Human-Nature Relationship
Jesse Burkhardt, Matt Carroll, and Jason Lawhon
Moving Towards Integrated Resources Planning
Jillian P. Cowley
Making Science Relevant for Parks and People (Session Report)
Chairs: Mike DeBacker and Sherry Middlemis-Brown
Big Dams and Park Resources: Water Management in the Colorado River Basin
Guy T. DiDonato and Catherine A. Moore
A New Challenge for Resource Advisors:
Preventing the Spread of Aquatic Invasive Species during Fire Operations
Sandee Dingman
Government-to-Government Consultations with Native Peoples:
From the Rhetoric of Respect to Real Results (Plenary Remarks)
Dalee Sambo Dorough
Overnight Visitor Use and Computer Simulation Modeling
of the Yosemite Wilderness
Mark Douglas, Kai Ross, Steven Martin, and Robert Van Kirk
Climate Change and Coastal Refuge Dynamics:
The Case of Cape Romain National Wildlife Refuge
Chris Ellis and Raye Nilius
Katmai National Park and Preserve Economic Significance Analysis
and Model Documentation
Ginny Fay and Neal Christensen
Effective Organizations for Management Effectiveness:
Another View of Protected Areas Development
Lloyd Gardner
Climate Friendly Park Employees: A Climate Change Training
Needs Assessment for the National Park Service Intermountain Region
Gregg Garfin, Holly Hartmann, Mabel Crescioni-Benitez, Theresa Ely, John Keck,
Jim Kendrick, Kristin Legg, and Janet Wise
Gwaii Haanas: Working Together to Achieve Common Goals (Plenary Remarks)
Ernie Gladstone
Effective Science Communication
Ted Gostomski, Sara Melena, Corbett Nash, Megan Nortrup, Michelle O'Herron,
Paulina Tobar-Starkey, and Janine Waller
Acoustical Monitoring in Peregrine Falcon Territories at Bryce Canyon National Park
Sarah Haas, Ericka Pilcher, and Joseph Flower
Engaging Local Communities in World Heritage Sites:
Experience from the Community Management for Protected Areas Programme
Terence Hay-Edie, Nehemiah Murusuri, Julio Moure, and Jessica Brown
Without Controversy: The Development of Fort Pillow State Historic Park
Benjamin Hayes
NPS Herbaria Go Global (Virtually)
Ann Hitchcock
WWII Military Aircraft Incidents in National Park Service Units:
A Preliminary Inventory
Adrian P. Hunt, Vincent L. Santucci, and David Lassman
The Relevance of National Parks (Plenary Remarks)
Jonathan B. Jarvis
The Ill-Fated NBS: A Historical Analysis of Bruce Babbitt's Vision
to Overhaul Interior Science
Diane Krahe
The Next Century of the World's First National Park Service
(Plenary Remarks; English)
Alan Latourelle
Le prochain siècle du premier service des parcs au monde
(Remarques plénières; Français)
Alan Latourelle
Prescribed Fire in Wilderness: Nature or Nurture?
Jason Lawhon
Could Ecotourism be an Effective Tool for Wetland Conservation in Florida?
Li-Pin Lin
Going Global: IUCN's Global Programme on Protected Areas (Session Report)
Chair: Nikita Lopoukhine
No Ordinary Highway: A Thirty-Year Retrospective,
Trans Canada Highway, Banff National Park of Canada
Terry McGuire
Beyond Consultation: Aboriginal Engagement for Effective Management
of Legacy Contamination in an Arctic National Park
Edward McLean, John Snell, Nelson Perry, Ken Reimer. and Nick Battye
Continued Cultivation of Illegal Marijuana in U.S. Western National Parks
Jim F. Milestone, Kevin Hendricks, Alan Foster, Jim Richardson, Sean Denniston, Athena Demetry, Matt Ehmann, Charles Cuvelier, David Schifsky, and David Fireman
Managing the Historic Industrial Landscapes at the
Quincy Mining Company National Historic Landmark
Ruth E. Mills and Brenda Williams
Assessment of Tropical Cyclone Induced Transgression of the
Chandeleur Islands for Restoration and Wildlife Management
Brandie Mitchell, Ross Reahard, Amanda Billiot, Tevin Brown, and Lauren Childs
Improving Scientific Communication through the Use of
US Geological Survey Video Podcasts
Michelle C. Moorman, Douglas A. Harned, Gerard McMahon, and Kara Capelli
DC's Island Sanctuary:
Managing Nature and Culture on Theodore Roosevelt Island
Saylor Moss
The Role of Cultural Values in the Management and Conservation of the
Rwenzori Mountains and Lake Mburo National Parks in Uganda
Arthur Mugisha and Mark Infield
Using High-Accuracy Geodesy to Assess Risk
from Climate Change in Coastal National Parks
Angelica Murdukhayeva, Michael Bradley, Nigel Shaw, Charles LaBash, Heather Grybas,
Tiffany-Lane Davis, Peter August, Tim Smith, and Roland Duhaime
Theoretical Concerns in Networks of Protected Areas: Symmetry and Asymmetry
Robert Pahre
Veve Afa: The Loa's Trace
Rosa Plá Cortés
Assessment of Riparian Conditions at Chattahoochee River National Recreation Area
Allyson Read, Candice LaRussa, Laura Wear, and Joel Brumm
Developing a Wilderness Character Monitoring Protocol
for the Otis Pike Fire Island High Dune Wilderness,
a Federal Wilderness within Sixty Miles of New York City
Lindsay Ries, Jason Flynn, Jordan Raphael, and Michael Bilecki
Mythic Narratives of the National Parks
Lynn Ross-Bryant
Civic Engagement: What Does that Mean Again? (Session Report)
Chair: Molly Russell
Redwood National Park Expansion, Woodstock, Earth Day,
and the Kent State Massacre
Dan Sealy, Suzanne Guerra, and John Amodio
New Horizons for Cooperative Management and Collaborative Partnerships:
Redwood National and State Parks, California, 1994–2010
Joe Seney and Steve Chaney
Managing for Results: Parks Canada's Approach to
Planning, Monitoring, and Reporting
Christie Spence, Stephen Woodley, and Wayne Tucker
Project Planning and Data Dictionary Design:
Keys to Successful GPS Data Collection
James Stein
The Misbehaving Spring: Studying Unique Underground River Flow Patterns
with Advanced Middle School Science Students
Shannon R. Trimboli, Rickard S. Toomey, III, Kim Weber, and Susan Ryan
Transit in the Parks: The Role of Foundations and the Private Sector
Katherine F. Turnbull
Dead Wood Relative to Slope Severity in Mesic Loess Bluff Hardwood Forests
Daniel J. Twedt
Geology of National Parks Modules for the
Spreadsheets across the Curriculum Library
H.L. Vacher, Tom Juster, Judy McIlrath, and Mark Rains
The Economic Impact of Canada's National, Provincial, and Territorial Parks (2009)
Erik Val
Place Meanings among Resource and Recreation Managers of the
Great Barrier Reef Marine Park, Australia
Carena J. van Riper, Gerard T. Kyle, Stephen Sutton, Renae Tobin, and Amanda Stronza
Integrated Science and Interdisciplinary Research for Parks and Protected Areas
Charles van Riper III, Robert Powell, Jan W. van Wagtendonk, Gary Machlis,
Russell Galipeau, Carena J. van Riper, and Eick von Ruschkowski
Fires in Previously Burned Areas:
Fire Severity and Vegetation Interactions in Yosemite National Park
Kent van Wagtendonk
Lightning Fire Ignition Patterns in Yosemite National Park
Kent van Wagtendonk
An Interactive Workshop: Identifying Ways to Improve Park Break (Session Report)
Susan L. Vezeau, Meghan Lindsey, and Carla Mora-Trejos
Informed User Capacity Management Decision Making:
Linking Visitor Use Levels to Visitor Experience
Susan L. Vezeau, David Pettebone, Bret Meldrum, Todd Newburger, and Colin Leslie
Wetlands Mapping in the Vicinity of the Mineral King Valley Cabins
and Corral, Sequoia and Kings Canyon National Parks
Joel Wagner and Joe Seney
Using Scenarios to Prepare for Climate Change in
Alaska National Park System Areas
Robert Winfree, Bud Rice, and Nancy Fresco
Extrapolating Climate Change Data for Cultural Landscapes
Roberta Young
...........................................
Knowledge All around You:
Cultural Landscapes Management from a Landscape Point of View
Knowledge All around You: Cultural Landscapes Management
from a Landscape Point of View (Session Introduction)
Session Coordinator: Jillian P. Cowley
An Integrant Part: Using Cultural Landscapes in Interpretation of Difficult History
Elizabeth Goetsch
Pelehonuamea: Managing an Active Lava Landscape
Laura C. Schuster
Visitors' Creative Responses to Protected Landscapes
Jillian P. Cowley